Out today is the
13th Annual "MTR100", Marine Technology Reporter's profiling of 100 leading companies, people and technologies in the subsea space. This year for the first time the editorial staff, with input from the global industry, delivers a listing of the
 "Top 10 Ocean Influencers." Marine Technology Reporter's Top 10 are profiled in short below; for the full editorial see the July/August 2018 edition at: https://magazines.marinelink.com/nwm/MarineTechnology/201807/
No. 1
Yohei Sasakawa, Chairman, Nippon Foundation
Yohei Sasakawa, Chairman, Nippon Foundation, leads a huge philanthropic organization with a simple mission, social innovation. While its activities today cross many activities and borders, when founded in 1962 its efforts focused largely on the maritime and shipping fields.  Today still, Sasakawa and the Nippon Foundation are laser focused on the world's oceans because of their importance in sustaining human life on earth.
The Nippon Foundation has the luxury to take the long-view … (we're talking 5,000 years!) … when it discusses the health and well-being of the world's oceans, as Sasakawa explained to MTR: "Today we live in speedy times; everything moves quickly, and people tend to focus on what might happen tomorrow or maybe 10 years. But if you think about the health and the sustainability of the ocean, this is directly related to whether the humans will be able to live their life on earth 5,000 years from now. These are the bigger, longer span questions that we keep in mind of when living our lives, because the ocean is in danger, especially from over-fishing and the various other problems."
Education is core to many Nippon Foundation endeavors, and it is no different when it comes to the world's oceans.
Nippon Foundation is a leader in the Seabed 2030 project, a collaborative project between the Nippon Foundation and GEBCO aiming to bring together all available bathymetric data to produce the definitive map of the world ocean floor by 2030, making the information available to all. If that's not enough: The World Maritime University (WMU) and The Nippon Foundation late last year announced to operationalize the WMU-Sasakawa Global Ocean Institute (Ocean Institute), a concrete response to the United Nations Sustainable Development Goals and in particular Goal 14 - the Ocean Goal- that commits governments to "conserve and sustainably use the oceans, seas, and marine resources for sustainable development.
No. 2
The United States Navy & Admiral John M. Richardson, Chief of Naval Operations
The United States Navy, led by Admiral John Richardson who graduated from the U.S. Naval Academy in 1982 with a Bachelor of Science in Physics, a master's degrees in electrical engineering from the Massachusetts Institute of Technology and Woods Hole Oceanographic Institution, and National Security Strategy from the National War College, is one of the world's leading purveyors and developers of subsea technology.
Several years ago at the home of then-CNO Admiral (Ret.) Gary Roughead, Marine Technology Reporter was invited to take part in a meeting and discussion on the future of Unmanned Underwater Systems, a meeting with a clear signal: improve subsea technologies, particularly in the area of power density, to allow the Navy to carry out its missions in a safer and more efficient manner.  That mandate stands today, as the U.S. Navy continues to push the envelope on subsea systems.
No. 3
Paul G. Allen & Vulcan Inc.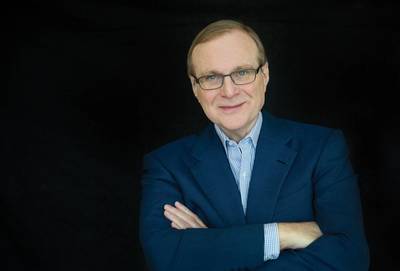 No. 3: Paul G. Allen & Vulcan Inc. (Photo courtesy of Paul G. Allen)Paul G. Allen, co-founder of Microsoft, needs no introduction, as he is an internationally acclaimed entrepreneur, technologist and philanthropist.  Allen today is still exploring the frontiers of technology and human knowledge, and acting to change the future. He is a leader in the wave of wealthy individuals using their money and influence for the betterment of the world and humanity, and through his company Vulcan Inc., Allen is working to save endangered species, slow climate change, improve ocean health, share art, history and film, develop new technology, tackle epidemics, research how the human brain works and build sustainable communities.Allen is deeply invested locally in his hometown of Seattle and the Pacific Northwest, but his endeavors regarding the ocean span the global.In 2016, Allen purchased the R/V Petrel, a 250-ft. research and exploration vessel and equipped it with a suite of advanced underwater equipment and technology to make it one of the few ships on the planet capable of exploring to 6,000 meters. Following a 2017 retrofit, Petrel and its crew use state-of-the-art underwater technology for deep-sea expeditions.
No. 4
Professor Cui Weicheng, Shanghai Ocean University
Director, Hadal Science and Technology Research Center (HAST), Co-Founder,
Rainbowfish Ocean Technology Company
Professor Cui Weicheng, Director of Shanghai Ocean University's Hadal Science and Technology Center (HAST), Lingang (New City), Pudong District, is one of those leading and influencing the development of advanced deep-sea technology.  He is on an extraordinary mission to build a fleet of manned and unmanned vehicles capable of routine dives to the bottom of any ocean trench. His approach to solving the basic start-up funding problem is likely the first in the Chinese experience, using government-private-public partnerships seen in other parts of the world.  
Over the course of his career, Professor Cui was project leader and first deputy chief designer of the 7000m Jiaolong 3-man submersible (HOV), now operated by the National Deep Sea Center, State Oceanic Administration, Quingdao, Shandong province. The Jiaolong has made 151 dives, reaching a record depth for an active submersible program of 7,062m (23,169 ft.), piloted by Cui himself.
Cui has already made test dives of an 11,000m Autonomous Remote Vehicle (ARV), and three different 11,000m Hadal Landers that incorporate both foreign and domestic components.  His team is in the process of building two new Generation 2 benthic landers.  Cui's team at HAST has tested a new 4500m ARGO-like "Floater" using a 17-inch glass sphere for the housing and flotation, with the variable ballast pod on the keel. A surface ship can track the "Floater" using a miniaturized USBL system.  
No. 5
Jill Zande & MATE II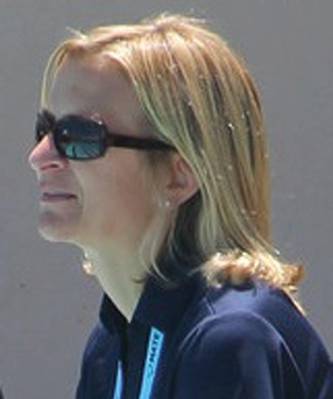 Number 5 is Jill Zande & MATE II. (Photo Courtesy of MATE II)Jill Zande, President/Executive Director, MATE Inspiration for Innovation (MATE II) and Associate Director, MATE Center, is a familiar figure in subsea circles, the face a globally renowned and fast-growing ROV competition that has and continues to inspire young minds, from kindergarteners through collegians. Zande is humble, and 20 years ago could not have imagined her position today.
As a research associate at the Dauphin Island Sea Lab (DISL), she knew that career-wise, the Ph.D. path was her only realistic options. But she knew deep down that the Ph.D. path was not for her.
As fate had it her former major professor at Louisiana State University told her about MATE, helping to launch her career in education that has touched tens of thousands of young lives and brains, and contributed mightily to grooming that oft-discussed 'next generation'.  
As Zande celebrates her 20th anniversary with MATE, our "Number Five" in the MTR Top 10 shares the challenges and rewards of building and maintaining its signature student ROV competition.
No. 6
Dr. Sylvia Earle
An American oceanographer and explorer known for her research on marine algae, Dr. Sylvia Earle has lived by her mantra, "no blue, no green." She has spent her lifetime protecting and conserving the world's oceans.
Sylvia Earle is President and Chairman of Mission Blue/The Sylvia Earle Alliance. She is a National Geographic Society Explorer in Residence, and is called Her Deepness by the New Yorker and the New York Times, Living Legend by the Library of Congress, and first Hero for the Planet by Time Magazine. She is an oceanographer, explorer, author and lecturer with experience as a field research scientist, government official, and director for several corporate and non-profit organizations
Earning undergraduate and post graduate degrees in botany helped form Dr. Earle's belief that understanding vegetation was the first step in understanding any ecosystem. Dr. Earle's 1966 Duke University dissertation, "Phaeophyta of Eastern Gulf of Mexico," shed new light on the region's aquatic plant life, and when combined with her other Gulf research, the body of work stands today as the definitive study of the region's abundant and rich aquatic plant life.
Dr. Earle has led more than 100 expeditions and logged more than 7,000 hours underwater. In 1970, she led the first team of women aquanauts on the government's historic Tektite II deep-sea research project, during which time the team conducted groundbreaking work on the effects of coral reef pollution. She has participated in ten saturation dives and set the women's solo diving record in 1,000 meters depth.  
No. 7
Schmidt Ocean Institute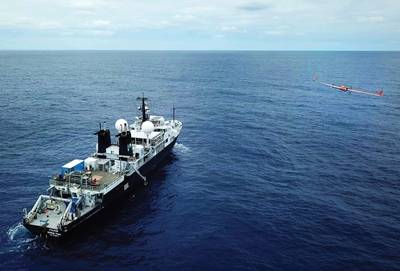 Falkor & Aerial vehicle. (Photo courtesy of Schmidt Ocean Institute)SOI is disrupting the way science at sea is conducted and shared. Over the past year it has supported research that use multiple underwater platforms simultaneously and allow for adaptive planning of science in real time. It has also supported image annotation software and cloud-based data sharing services.
Schmidt Ocean Institute (SOI) is a 501(c)(3) private non-profit operating foundation, founded by founded by Wendy and Eric Schmidt and established to accelerate the understanding of our Ocean with innovative research technologies, operational practices, advanced data analysis, engaging storytelling, and open sharing of new knowledge. SOI seeks to advance the frontiers of ocean research by providing state of the art technological and informational support to pioneering marine science and technology development projects at sea. SOI prides itself on providing facilities aboard research vessel Falkor that help to propel marine science forward such as its high performance computing system, global internet connectivity, dedicated custom-built remotely operated vehicle (ROV SuBastian) and advanced shipboard sensors. SOI also encourages the development and integration of video data management systems, collaborative image annotation programs, and shipboard data infrastructure. We address complex questions in marine sciences by building strategic partnerships across broad international user communities leveraging expertise in pertinent research and areas. SOI offers at-sea exposure to scientists, students, and artists, sharing their research and experiences across multiple platforms. To date SOI has hosted more than 565 scientists and 216 students representing over 160 institutions from 27 countries.
No. 8
RRS Sir David Attenborough
Aka "Boaty McBoatface"
As the subsea industry collectively turns its attention to unmanned, autonomous vehicles to provide a consistency of presence and economy of scale that is unmatched by manned operations, MTR thought it appropriate to go 'old school' on number eight with a nod to Cammell Laird shipyard, the U.K. Natural Environment Research Council and British Antarctic Survey courtesy of its state-of-the-art polar research ship, the 129-m, 10,000-ton RRS Sir David Attenborough. The vessel is still under construction, but recently passed a major milestone when hull number 1390 was launched, scheduled to come into operation in 2019.
RRS Sir David Attenborough drew global attention before she was even named, as a public contest to name the vessel arrived on "Boaty McBoatface." While authorities eventually settled on the more appropriate RRS Sir David Attenborough – named for the famed naturalist and television personality, dubbed 'the father of the modern nature documentary' – the vessel will carry an AUV named Boaty McBoatface.
No. 9
Gael Bodénès, CEO, Bourbon Corporation
Gael Bodénès, CEO, Bourbon Corporation, takes the helm at this offshore company at a most interesting time. Calling the continued offshore energy crisis the worst in history, Bodénès – who just took the top spot in early 2018 – has already put his stamp on what will be the 'new' Bourbon. It's dramatic; it's immediate; it's digital; it's #BOURBONINMOTION.
Today BOURBON is more than 8000 employees of 88 nationalities, with a fleet of more than 500 units courtesy of a new vessel being delivered every 15 days over several years. So what is #BOURBONINMOTION? Essentially the immediate change in business plan, a reinvention of Bourbon, which includes:
-developing integrated services with performance based on data. Not simply by adding new functions, but pragmatically, step-by-step, taking measured risks thanks to digital technology.
-splitting BOURBON into 3 independent companies:
Bourbon Marine & Logistic: Marine integrated logistics services
Bourbon Mobility: Passenger experience transportation
Bourbon Subsea Services: Light turnkey project & integrated solutions
No. 10
Michael Jones, The Maritime Alliance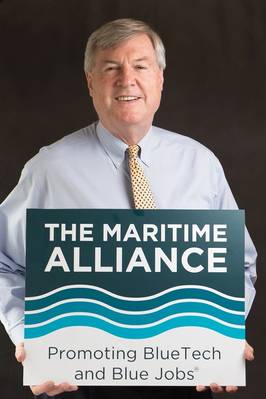 Number 10 is Michael Jones, President of The Maritime Alliance. )Photo: TMA)

You would be hard-pressed to find many in the subsea sector that have not run across, to or through Michael Jones, President of The Maritime Alliance which is now recognized as a leading BlueTech Cluster in the U.S. Jones was a driving force that caused the U.S. Department of Commerce to focus on BlueTech, and why the U.S. Commercial Service decide to form a global marine technology team.  

While Jones is "Number 10" in our subsea influential leaders ranking, you would search long and far to find any have the combined drive, work ethic, connections and passion for matters maritime. Marine Technology Reporter has been a long-time media sponsor of The Maritime Alliance led BlueTech Week in San Diego, a smaller but high-quality event. In short, Jones is a visionary who has methodically stitched together a tapestry of collaboration among academia, industry and government internationally.  He has systematically placed the building blocks over 11+ years to enable society to continue to thrive in a way that optimizes conservation and economic development.

For the full edition, please visit: https://magazines.marinelink.com/nwm/MarineTechnology/201807/

Source : https://www.marinetechnologynews.com/news/ocean-influencers-563670

Thanks you for read my article DMCA Council Discusses Maritime Challenges

I Very thank because ur visit in the my website with title DMCA Council Discusses Maritime Challenges. Happy reading