Of all the 80s pop artists that Scotland spawned – from Simple Minds and Orange Juice, to Annie Lennox and the Proclaimers – Dunfermline's Big Country are closest to my heart. They transformed Thatcherite brutality into melancholic anthems. On guitars that sounded like bagpipes, their cinematic narratives nailed the emotional fallout of abandoned shipyards and factories, men robbed of purpose and women beaten by life (and sometimes by those same men). Big Country documented their own place and time – 80s industrial Scotland – in the way that folk songs everywhere do.
I am pulling together two dozen songs for a show at the Edinburgh international festival this week called A Scottish Songbook. It's a 50-year romp through Scottish pop via a folk singer's ears. But any attempt to articulate the folkie qualities or Scottishness of my pop choices merits a cautionary note. The Scottish music scene has gifted the world the soulful sophistication of Average White Band, the wailing distortion of the Jesus and Mary Chain and the chaotic urgency of Young Fathers. It's diverse stuff from a multifaceted nation. And a piano accordion version of the Shamen's Ebeneezer Goode isn't going to happen.
That said, I am armed and ready to take on a clutch of classic 80s and 90s synth riffs with the assistance of said accordion, as well as a vibraphone, harmonium and tenor guitar. The songs that speak to me do reveal a sense of place, a capacity for fresh meaning and the championing of underdogs.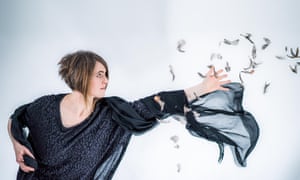 >
Popular music can never be valid and worthwhile unless it reflects the environment that it comes from
In a 1985 interview, the late Stuart Adamson, the lead singer of Big Country, said: "Popular music can never be valid and worthwhile unless it reflects the environment that it comes from … music of any kind should be a working, living, breathing part of a community."
For all the grime and ache that Adamson conjured, he sang also: "In a big country, dreams stay with you." Deacon Blue captured one such dream, of a council street cleaner sailing an imagined boat "up the west coast through villages and towns". Dignity is a song that teeters on the edge of poignancy and possibility. I'm a sucker for this heartfelt ambivalence – Scotland does it well. Yet, it's complicated. Glasgow rapper Loki (AKA Orwell prize-winning author Darren McGarvey) has a powerful, passing dig at Dignity's class-based sentimentality in one of his blistering monologues. And I get that, too. But it's still an enchantment of communal feeling to witness a Scottish audience hollering: "I saved my money!" – even though there was never, in my opinion, going to be enough money for that boat.
While Deacon Blue faced the Atlantic in their polished longing, the Cocteau Twins were local heroes to the east of my childhood home, and an altogether more enigmatic, electronic affair. The gossamer vocals and idiosyncratic melodies of Elizabeth Fraser are one of Scottish pop's delights.
The band was formed in the petrochemical hub of Grangemouth on the Forth. I have written about the strange spell of that place in a song called Tinsel Show: "From a window, such a wonder, galaxies have come to land." Growing up nearby, it was filthy and futuristic, steely and luminous. The Cocteau Twins sound like that eerie coastal landscape. They lift off from its industrial clank and enter the ether.
Read more
Neither the Cocteau Twins nor Jimmy Somerville feature in the National Museum of Scotland's pop exhibition Rip It Up. Perhaps if your music career ignites in London and is rooted in the experience of young gay men exiled from a virulently homophobic Scotland, then you are disinclined to think of yourself as a Scottish pop musician.
Whatever the case, Smalltown Boy, delivered in Somerville's aching falsetto, is an archetypal folk song in its tale of injustice, alienation and escape. And I come to it now in a maternal spirit of protection, in the hope that I'm able to support my own kids, whatever identities emerge in them.
As a writer and performer, I am wired to generate a backstory. I will sniff out the hint of an underbelly in the unlikeliest of songs. In the joyous new wave jangle of Altered Images' I Could Be Happy, I wonder if that fresh-faced Clare Grogan is singing about domestic abuse.
And more than 30 years after its release, I'll sing "a part of you has gone since yesterday", by experimental Glasgow duo Strawberry Switchblade, while thinking of a friend whose mother is disappearing into dementia.
I'm aware of this near-parody earnestness in myself. And I can't help it. But the deceptive economy, simplicity and openness of pop songs, allows them to endure and evolve in meaning, as the best folk songs do, too.
Some land with a jolt in a different time. In John Martyn's Don't Want To Know, he sings: "It's getting hard to listen, hard for us to use our eyes." And I hear in it contemporary news saturation and post-truth anxiety. The Blue Nile's From Rags to Riches – from their magnificent 1984 album, A Walk Across the Rooftops – speaks in a similar fashion: "The people are leaving the squalor, leaving the houses and fires, and starting out we find the waiting country." In my mind, it's about global inequality, economic migration and impending ecological payback for the mercilessness of 21st-century capitalism – isn't it?

That's how it is with me. Songs hold signs. They speak afresh of the places and people around me. And they stretch to accommodate events. Frightened Rabbit's Swim Until You Can't See Land is a recent favourite. Like Big Country, they have built their repertoire on euphoric despair. But the song is irrevocably altered by the recent suicide of the band's lead singer and songwriter, Scott Hutchison. I'll sing it as a minding for him, and for others who haven't made it, as well as a hymn to the everyday struggling for survival.

Even Ivor Cutler's wry incantation, Women of the World, first championed by John Peel in the mid-80s, begins to sounds like a contemporary manifesto. "Women of the world take over," the song goes, over and over, "because if you don't / the world will come to an end / and we haven't got long."

I come to the rich archive of Scottish pop music with a folk singer's heart. I dig into the songs that connect with me, as centuries-old ballads often do, too, not because of their retrospective sentimentality or their uniquely Scottish character, but for their ability to reveal something about living here, in this place, right now.

I'M Happy because ur visit in the my website with title GDC Releases New Facebook Career Hub. Happy reading